Rev. Hillary Dawes, PhD, SC-C
HAPPY GOOD FRIDAY!
He was oppressed, and he was afflicted, yet he opened not his mouth: he is brought as a lamb to the slaughter, and as a sheep before her shearers is dumb, so he openeth not his mouth. He was taken from prison and from judgment: and who shall declare his generation? for he was cut off out of the land of the living: for the transgression of my people was he stricken.
~Isaiah 53:7-8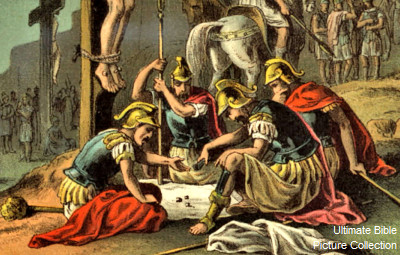 And they crucified him, and parted his garments, casting lots: that it might be fulfilled which was spoken by the prophet, They parted my garments among them, and upon my vesture did they cast lots.
~Matthew 27:35
Now from the sixth hour there was darkness over all the land unto the ninth hour. And about the ninth hour Jesus cried with a loud voice, saying, "Eli, Eli, lama sabachthani?" that is to say, "My God, my God, why hast thou forsaken me?"
Some of them that stood there, when they heard that, said, "This man calleth for Elias."
And straightway one of them ran, and took a spunge, and filled it with vinegar, and put it on a reed, and gave him to drink. The rest said, :Let be, let us see whether Elias will come to save him."
Jesus, when he had cried again with a loud voice, yielded up the ghost.
And, behold, the veil of the temple was rent in twain from the top to the bottom; and the earth did quake, and the rocks rent.
Now when the centurion, and they that were with him, watching Jesus, saw the earthquake, and those things that were done, they feared greatly, saying, "Truly this was the Son of God."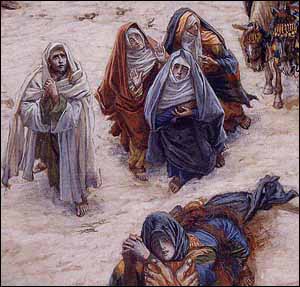 And many women were there beholding afar off, which followed Jesus from Galilee, ministering unto him: Among which was Mary Magdalene, and Mary the mother of James and Joses, and the mother of Zebedees children.
When the even was come, there came a rich man of Arimathaea, named Joseph, who also himself was Jesus' disciple: He went to Pilate, and begged the body of Jesus. Then Pilate commanded the body to be delivered. And when Joseph had taken the body, he wrapped it in a clean linen cloth, And laid it in his own new tomb, which he had hewn out in the rock: and he rolled a great stone to the door of the sepulchre, and departed.